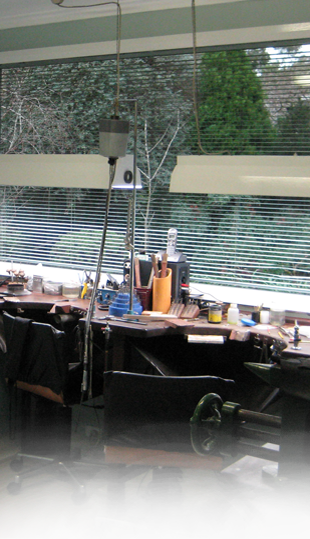 Handcrafted in our studio
OUR SERVICES
Manufacturing
Every piece is hand crafted at the SWS studio. It is made using traditional techniques only using gold alloys of the highest quality which are refined here in South Australia. The alloying metals used in gold are critically important. They control everything from the melting point through malleability, to how the metal finishes. Cast metals don't have these characteristics, they are crystalline in structure, often show 'patches' of porosity and some have quite foreign additions to the alloying metals. Cast gold is more prone to cracking, is often softer and considerably less durable than the forged and rolled products.
If you are having something precious made like an engagement ring, you want it to last a lifetime and the forging and rolling method has the virtues of durability and wear ability. Over the passage of time small repairs such as claw replacement and re-sizing are almost inevitable. The foundation of using quality gold enables these repairs to be done much later for a given amount of wear and without complications.
At SWS the gold is annealed, rolled out to the correct size, bent to a basic form and hammer beaten to shape. Following this it is filed to form and handmade settings soldered in. All joins are soldered in high quality gold solders of the same carat gold as the mother metal. It is sanded to final shape, set with your choice of gems and polished beautifully ready for presentation to you.
Much of the time highly complex settings are created. Some might be pierced and saw cut into beautiful motifs, some may of gold wires or fine plates that are bent into delightful upward sprays that continue seamlessly to become the claws holding your diamonds or gemstones in. Others may be round, oval or 'v' shaped with cut outs and see through sections to enhance the beauty of your stone.
Sandy and Rod take great pride in guiding you to making the correct choice of setting to complete your unique ring.
SWS also have the services of a Master Engraver and are able to have designs of symmetry or whimsy inscribed, enhancing your commission.
You can be assured that any product manufactured in the SWS workshop is of the highest quality, both in constructive materials and skill.