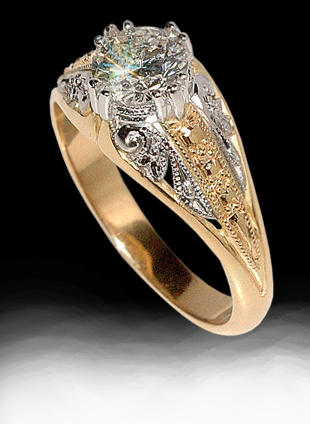 Beautiful handcrafted jewellery pieces
OUR SERVICES
In Stock
SWS is a working studio with only pieces under construction. They only undertake work which is client commissioned.
There are no showcases stocked with choices. Their only showcase is the wealth of your imagination and Sandy and Rod's skill in bringing that to fruition. They have a comprehensive photographic portfolio and other media to stimulate your imagination.
When you have decided on either your diamond, coloured gem or pearl preferences, SWS negotiates a selection from the appropriate merchants for you to select from.
Pricing
As all Sandy and Rods pieces are custom made it is impossible to put an instant price on all of the components. When all your choices have been made they will contact you within a day or so with a quote.
Where you are working to a budget it is always helpful to know it in advance. It affords the opportunity to work out the cost of materials and workshop time for the type of piece you desire. Then they can put the balance to searching for a choice of the best and biggest gemstone/s they can secure.
They prefer to think in terms of acting as an agent for you, employed to seek the best possible value for the capital you invest. Having a raft of outstanding suppliers and merchants at their fingertips you will never be shown an overpriced diamond or gemstone where better value is available.
Another great advantage for you is being a small workshop studio means their overheads are low. At SWS there are no peripherals built into their pricing. This means first class craftsmanship and good old fashioned value for money.
Payment
SWS requires a deposit when you place an order. Full payment required on receiving your piece. A variety of payment options are available. Feel free to discuss these payment options with SWS.